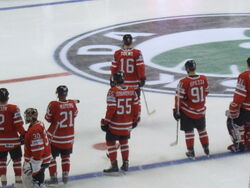 The Canadian National Team represents Canada in international competitions.
Canada's National Men's Team was founded in 1963 by Father David Bauer, who shared a deep commitment to developing the Canadian character through international hockey. National Team players in the United States, Canada and throughout the world are united by their respect for the maple leaf.
Until the early 1960s, Canada's international representation was by Senior Amateur Club teams. The last senior team to win a World Championship was the (B.C.) Trail Smoke Eaters in 1961. Shortly thereafter, Bauer proposed to the Canadian Amateur Hockey Association a plan to develop a Canadian national hockey team. The proposal was accepted and the "Nats" were born, playing out of the University of British Columbia. The best finish by Bauer's team was a bronze at the Grenoble Winter Olympic Games in 1968.
The team was a full-time program from 1963-68 and 1983-2000, giving Canada a presence at major international events and also served as a development program for players moving on to sign NHL, minor league and international contracts, as well as giving players the opportunity to travel the world and represent their country. A number of NHL teams gained from this program, as graduates such as Eric Lindros, Sean Burke, Adrian Aucoin, Chris Therien, Joé Juneau, James Patrick and Fred Brathwaite went on to illustrious NHL careers.
Community content is available under
CC-BY-SA
unless otherwise noted.