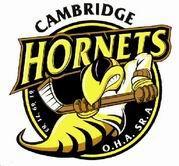 History
The Cambridge Hornets were a senior team.
The name was changed from Galt Hornets when Galt was amalgamated into the city of Cambridge in 1973.
The Hornets won the Allan Cup in 1986.
This team folded in 1987.
A new team was founded in 2001 but withdrew in 2006 over a dispute about an ineligible player.
Season-by-Season Results
| | | | | | | | | | |
| --- | --- | --- | --- | --- | --- | --- | --- | --- | --- |
| Season | GP | W | L | T | GF | GA | Pts | Finish | Playoffs |
| 1973-74 | 40 | 28 | 12 | 0 | 165 | 132 | 56 | 3rd | |
| 1974-75 | 40 | 16 | 21 | 3 | 175 | 181 | 35 | 5th | |
| 1975-76 | 44 | 23 | 20 | 1 | 190 | 170 | 47 | 3rd | |
| 1976-77 | 34 | 22 | 10 | 2 | 188 | 145 | 46 | 2nd | |
| 1977-78 | 40 | 27 | 12 | 1 | 200 | 151 | 55 | 1st | |
| 1978-79 | 40 | 21 | 18 | 1 | 179 | 170 | 43 | 3rd | |
| 1979-80 | 40 | 29 | 11 | 0 | 245 | 144 | 58 | 2nd | Won League |
| 1980-81 | 37 | 33 | 3 | 1 | 290 | 119 | 67 | 1st | Lost Final |
| 1981-82 | 34 | 23 | 11 | 0 | 201 | 115 | 46 | 3rd | Lost Final |
| 1982-83 | 40 | 32 | 8 | 0 | 316 | 124 | 64 | 1st | Won League, Won Allan Cup] |
| 1983-84 | 38 | 26 | 12 | 0 | 244 | 139 | 52 | 1st | Won League |
| 1984-85 | 40 | 25 | 12 | 3 | 210 | 137 | 53 | 1st | |
| 1985-86 | 36 | 23 | 13 | 0 | 157 | 144 | 46 | 2nd | |
| 1986-87 | 34 | 13 | 21 | 0 | 158 | 171 | 26 | 4th | |
Note: GP = Games played, W = Wins, L = Losses, T = Ties, OTL = Overtime losses, SOL = Shootout Loses*, Pts = Points, GF = Goals for, GA = Goals against
| | | | | | | | | | | | |
| --- | --- | --- | --- | --- | --- | --- | --- | --- | --- | --- | --- |
| Season | GP | W | L | T | OTL | SOL | Pts | GF | GA | Finish | Playoffs |
| 2001-02 | 32 | 27 | 4 | 1 | 0 | 0 | 55 | 221 | 91 | 1st OHA Sr | Lost Final |
| 2002-03 | 31 | 21 | 7 | 1 | 2 | 0 | 45 | 144 | 104 | 1st OHA Sr | Lost Final |
| 2003-04 | 32 | 19 | 11 | 2 | 0 | 0 | 40 | 160 | 137 | 2nd OHA Sr | |
| 2004-05 | 32 | 18 | 12 | 0 | 2 | 0 | 40 | 149 | 148 | 3rd OHA Sr | |
| 2005-06 | 30 | 13 | 14 | 0 | 1 | 2 | 29 | 140 | 144 | 5th OHA Sr | |