(12 intermediate revisions by one other user not shown)
Line 1:
Line 1:
 
+

[[Image:Cambridge, Ontario.jpg|thumb|A view of Cambridge.]]

⚫
 
 
+
 
⚫
 
 
 

It was formed in 1973 as an amalgamation of the towns of [[Preston]], [[Galt]], and [[Hespeler]] plus some smaller communities.

 

It was formed in 1973 as an amalgamation of the towns of [[Preston]], [[Galt]], and [[Hespeler]] plus some smaller communities.

−
 
 
 
 

==Teams==

 

==Teams==

 
+

*[[Cambridge Bears]] ([[Greater Metro Junior A Hockey League]], 2014-Present)

−
 
−

[[Cambridge Hornets]]

+

[[Cambridge Hornets]]

 
+

#([[Ontario Hockey Association Senior A]], 1973-1979) join CSAHL

−
 
 
+

#([[Continental Senior A Hockey League|Continental Senior A Hockey League, ]]1979-1980) join OHASA

 
+

#([[Ontario Hockey Association Senior A]], 1980-1987) folded

 
+

#([[Southwestern Senior A Hockey League]], 1999-2003) join OSAAAHL

 
+

#([[Ontario Senior AAA Hockey League]], 2003-2004) league becomes MLH

 
+

#([[Major League Hockey]], 2004-2006) withdrew over dispute over an ineligible player

 
+

*[[Cambridge Raiders]] ([[Ontario Junior Hockey League]], 1976-1977)

 
+

*[[Cambridge Shamrocks]] ([[Greater Ontario Junior Hockey League]], 1979-1982) relocated to Guelph when sold

 
+

*[[Cambridge Winterhawks]]

 
+

#([[Ontario Junior A Hockey League]], 1982-1983) join GOJHL

 
+

#([[Greater Ontario Junior Hockey League]], 1983-present)

 
 
 

==Champions==

 

==Champions==

−
 
 

==='''[[Allan Cup]]'''===

 

==='''[[Allan Cup]]'''===

 
⚫
−
 
⚫
 
−
 
−
 
 
 
 

==Arenas==

 

==Arenas==

 
+

*Cambridge Ice Centre

−
 
 
+

*Cambridge Sports Park (formerly Cambridge Ice Park)

 
+

*Dickson Park Centre

 
+

*Duncan McIntosh Commuity Centre

 

*[[Galt Arena Gardens]]

 

*[[Galt Arena Gardens]]

 
+

*Hespeler Memorial Arena

−
 
 
+

*Karl Homuth Arena

 
+

*[[Preston Memorial Auditorium]]

 
 
 

==Players==

 

==Players==

 
+

*[[Tim Brent]]

 
+

*[[Mike Carter]]

 
+

*[[Louie DeBrusk]]

 
+

*[[Trevor Gillies]]

 
+

*[[John Hecimovic]]

 
⚫
 
+

*[[John Tanner]]

 
+

*[[Scott Walker]]

 
 
 
+

==External Links==

⚫
 
 
+

*{{w|Cambridge, Ontario}} on ''Wikipedia''

−

[[Category:Canadian towns]]

+

[[Category: towns]]
---
Latest revision as of 16:16, 22 October 2019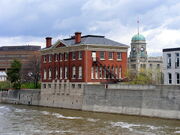 Cambridge is a city of about 130,000 just to the south of Kitchener in the Canadian province of Ontario.
It was formed in 1973 as an amalgamation of the towns of Preston, Galt, and Hespeler plus some smaller communities.
(Ontario Junior A Hockey League, 1982-1983) join GOJHL
(Greater Ontario Junior Hockey League, 1983-present)
Community content is available under
CC-BY-SA
unless otherwise noted.