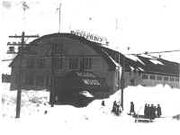 The Calumet Colosseum is an indoor arena located in Calumet, Michigan. The arena was built in 1913 and is oldest operating indoor rink still in use in the world. The arena was sold to the state of Michigan in 1942 to replace the National Guard Armory which had burned down near by on January 9, 1942.
The building had artificial ice installed during the 1968-69 hockey season and became home to the Lake Superior High School Hockey Conference in 1970. The arena was called the Calumet Armory Ice Rink at this point. The teams included in the league were Calumet, Eagle River (WI), Hancock, Houghton, and Marquette. The Calumet Hockey Association leased the ice from the state until 2005 when they purchased the building from the state. The arena returned to the Calumet Colosseum name after it was purchased.
note: the Matthews Arena in Boston, Massachusetts, which was originally built as the Boston Arena opened in 1910, but burned down in 1918, and again in 1948 is also billed as the oldest arena in the world but was completely rebuilt since.
Community content is available under
CC-BY-SA
unless otherwise noted.