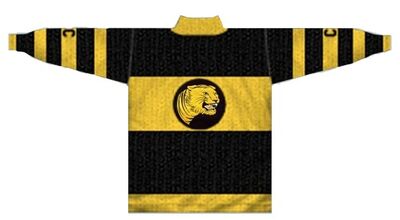 History
[
]
The Calgary Tigers were a senior and professional team in Calgary, Alberta.
They played in the Alberta Big Four League for one season only and won the league title that year in 1920-21.
The Tigers then moved to the major league Western Canada Hockey League and won the league in 1924 and then lost the 1924 Stanley Cup Finals.
They were then reconstituted as a minor pro team and played one season in the Prairie Hockey League in 1926-27 when they won the title. They then folded.
The team was resurrected in 1932 and played in the Western Canada Hockey League for the one season that it operated. The Tigers then shifted to the North West Hockey League for the three seasons that it operated, winning the league title in 1933-34.
They were known as the Calgary Consols in 1934-35.
They folded in 1936 when the league folded as well.
Another version of the Tigers played in the Alberta Big Six League for the 1947-48 season
Season-by-Season Records
[
]
Season
Games
Won
Lost
Tied
Points
Goals
for
Goals
against
Standing
Playoffs
1920-21
15
10
4
1
21
62
46
1st
Won Final
Season
Games
Won
Lost
Tied
Points
Goals
for
Goals
against
Standing
Playoffs
1921-22
24
14
10
0
28
75
62
3rd
Lost Semi Final
1922-23
30
12
18
0
24
91
106
3rd
out of playoffs
1923-24
30
18
11
1
37
83
72
1st
Won Final, Lost Stanley Cup Final
1924-25
28
17
11
0
34
95
79
1st
Lost Final
1925-26
30
10
17
3
23
71
80
5th
out of playoffs
Season
Games
Won
Lost
Tied
Points
Goals
for
Goals
against
Standing
Playoffs
1926-27
32
22
9
1
45
119
68
1st
Won Final
Season
Games
Won
Lost
Tied
Points
Goals
for
Goals
against
Standing
Playoffs
1932-33
30
16
10
4
36
70
61
1st
Lost Final
Season
Games
Won
Lost
Tied
Points
Goals
for
Goals
against
Standing
Playoffs
1933-34
34
17
11
6
40
117
76
1st
Won Final
1934-35
26
3
15
8
14
60
104
5th
out of playoffs
1935-36
40
15
21
4
34
107
141
5th
out of playoffs
Season
Games
Won
Lost
Tied
Points
Goals
for
Goals
against
Standing
Playoffs
1947-48
10
6
4
0
12
57
38
3rd
Lost Semifinals
Team Photos
[
]