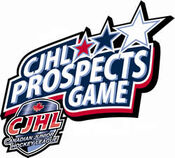 The CJHL Prospects Game formerly called the CJHL All-Star Game is an annual prospects game held by the Canadian Junior Hockey League in various host cities. The victorious team is presented the President's Trophy.
Teams
Team East features the players of:
Team West features the players of:
From 2005 until 2008, the event ran as a single game, but starting in 2010 the President's Cup was played for in a two-game series where the combined score of the games determines the winner of the event.
At the 2011 Royal Bank Cup it was announced that starting with the 2011 World Junior A Challenge that the CJHL Prospects Game would take place at the WJAC. Following the 2013 World Junior A Challenge, the game was reverted to a stand-alone event starting with the 2014–15 season, as well as taking place post-New Years for the first time ever.
Single Game Event
Two Game Series
Single Game Event
2015 Team West defeated Team East 3-2 in Oakville, Ontario
2016 Team East defeated Team West 3-1 in Surrey, British Columbia
2017 Team West defeated Team East 4-3 in Cornwall, Ontario
2018 Team West defeated Team East 5-2 in Mississauga, Ontario
2019 Team West defeated Team East 5-2 in Okotoks, Alberta
2020 Team West defeated Team East 6-4 in Hamilton, Ontario
2021 Event Cancelled due to COVID-19 pandemic
2022 To be held in January 2020, exact date and location TBD