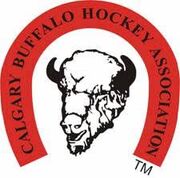 The Calgary Buffalo Hockey Association Rangers is a Junior "B" hockey team that is sanctioned by Hockey Calgary, Hockey Alberta, and Hockey Canada. The team is a member of the Calgary Junior Hockey League.
The CBHA dates back to 1943. The organization is responsible for youth and junior hockey in the southeast portion of Calgary, Alberta. The team is presently one of two teams sponsored by the CBHA in the CJHL with the other team being known as the CBHA Blackhawks.
The CRAA is one of four organizations which are organized for higher level youth and junior hockey within the city of Calgary along with the Calgary Royals Athletic Association, North West Calgary Athletic Association, and the Calgary Northstars Hockey Association.
Year by Year Results
| | | | | | | | | | |
| --- | --- | --- | --- | --- | --- | --- | --- | --- | --- |
| Season | GP | W | L | T | GF | GA | Pts | Finish | Playoffs |
| 2003-04 | 32 | 5 | 25 | 2 | 123 | 207 | 12 | 9th | |
| 2004-05 | 35 | 8 | 25 | 2 | 142 | 215 | 18 | 8th | |
| 2005-06 | 35 | 9 | 21 | 5 | 134 | 217 | 23 | 7th | |
| 2006-07 | 35 | 9 | 21 | 5 | - | - | 23 | 7th | |
| 2007-08 | | | | | | | | | |
| 2008-09 | | | | | | | | | |
| 2009-10 | 28 | 12 | 11 | 5 | 134 | 134 | 29 | 5th | |
| 2010-11 | 35 | 19 | 13 | 3 | 158 | 113 | 41 | 3rd | |
| 2011-12 | 35 | 28 | 7 | 0 | 163 | 87 | 56 | 3rd | |
| 2012-13 | 35 | 22 | 11 | 2 | 165 | 119 | 46 | 3rd | Won Championship |
| 2013-14 | 34 | 22 | 8 | 4 | 154 | 104 | 48 | 2nd | Lost Final |
| 2014-15 | 30 | 13 | 13 | 4 | 109 | 106 | 30 | 5th | Lost Quarterfinals |
| 2015-16 | 30 | 16 | 9 | 5 | 162 | 119 | 37 | 3rd | Lost Quarterfinals |
| 2016-17 | 30 | 24 | 5 | 1 | 212 | 99 | 49 | 1st | Won Championship |
| 2017-18 | 30 | 16 | 12 | 2 | 179 | 120 | 34 | 3rd | Won Championship |
| 2018-19 | 30 | 11 | 14 | 5 | 110 | 153 | 27 | 6th | Lost Quarterfinals |
| 2019-20 | 29 | 12 | 14 | 3 | 101 | 124 | 27 | 5th | Lost Quarterfinals |
| 2020-21 | 6 | 6 | 0 | 0 | 28 | 12 | 12 | N/A | Season cancelled due to COVID-19 pandemic |
| 2021-22 | 30 | 24 | 2 | 4 | 170 | 71 | 52 | 1st | Won Championship |
Russ Barnes Trophy Tournament
2022 TBD
2018 Won League but declined to participate
2017 Finish 2-2-0, Lost Semifinals 8-3 to Cochrane Generals
2013 Finish 0-2-1 in round robin in 4th place in pool, eliminated from further play
Links