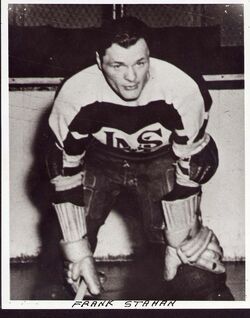 Frank Ralph "Butch" Stahan (October 29, 1918 – May 25, 1995) is a retired Canadian professional ice hockey defenceman who played three games in the National Hockey League for the Montreal Canadiens. He was born in Minnedosa, Manitoba.
He played junior hockey for the Portage Terriers and Brandon Wheat Kings from 1934 to 1938. He played for the Allan Cup-winning Kirkland Lake Blue Devils in 1939-40 and then joined the senior Quebec Aces. Stahan won another Allan Cup with the Aces in 1944.
While playing with the Montreal Royals in 1944-45 Stahan was called up by the Montreal Canadiens for three playoff games, scoring an assist.
In 1946-47 he joined the Ottawa Senators and stayed with them until they folded in 1954. He won his third Allan Cup in 1949.
After the Senators folded Stahan joined the Toledo Mercurys for three seasons and retired in 1957.
External links
[
]