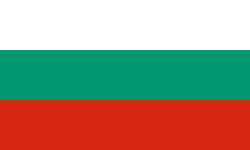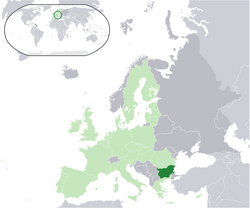 Bulgaria is a country of about 7,600,000 people in eastern Europe. It is located south of Romania.
Bulgaria

Info

Rinks

Players

Referees

Population

7,642,882

Indoor

3

Total

299

Male

17

Capital

Sofia

Outdoor

0

Male

93

Female

17

IIHF Since

July 25,1962

Junior

169

Female

37
The Bulgarian men's national ice hockey team is ranked 32nd in the IIHF World Ranking (2008) and competes in Division II at the Ice Hockey World Championships.
The team has participated once at the Olympic Games. This happened in Innsbruck in 1976, when Bulgaria lost to the Czechoslovak team 14-1 in the first round. After a few more losses the team finished last in the tournament.
Bulgaria has regularly played at the world championships having been 2nd in Pool C in 1967, and 1975.
Sofia, the capital of Bulgaria, hosted the games of Division II, Group B of the 2009 Men's World Ice Hockey Championships. Bulgaria's opponents at the tournament were Belgium, Mexico, Spain, South Africa and South Korea
Bulgarian junior teams have competed at World Junior Championships.
The history of hockey in Bulgaria began in 1929 when the Bulgarian Skating Club was created. The Bulgarian national team played its first international game against Yugoslavia in 1942 defeating its opponents by 4-2. Four years later, the national Ice Hockey Federation was created.
The only league in Bulgaria is the Bulgarian National League which was created in 1952.
National Teams
League