Buffalo Bulls

Institution:

State University of New York at Buffalo

Location:
Buffalo, New York
School founded:
1846
Enrollment:
31,923
Colors:
Blue and White
Home Arena:

Amherst Recreation Center

Men's Team
Conference:
ECAC West
The Buffalo Bulls were a men's collegiate hockey team representing the University of Buffalo. The team played at the varsity level from 1969 to 1987. The Bulls competed against ECAC Division II teams. The team joined the State University of New York Athletic Conference in 1978
The team had been a club team from 1962 to 1969 and returned to club status when the varsity program was discontinued in 1987.
The team was based out of the Amherst Recreation Center and would on occasion would play games at the Buffalo Memorial Auditorium against higher profile Division I teams such as Ohio State Buckeyes.
History of Men's Hockey at University of Buffalo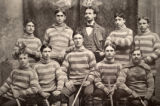 Organized teams at the university date back to 1895. Teams ran from 1895 to 1904 and died out due to lack of interest. A team was organized in 1918 and lasted until about 1924.  The U. B. Mavericks were organized in 1946 as a club team and lasted until 1948.  The club program was revived in 1962 and elevated to varsity status in 1969.  The team would play in the ECAC and SUNYAC. The tem was relegated to club status in the spring of 1987.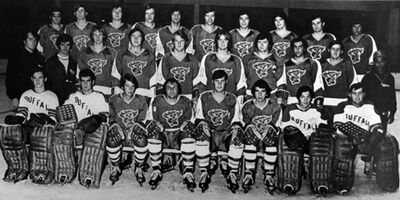 Head Coaches
Al (Bibber) O'Hearn

(1969-1970) (Did not finish first season) 14-3-0

Ed Wright

(1970-1981) 133-139-6

John Mickler

(1981-1987) 33-90-3
Men's Year by Year Record
Season
GP
W
L
T
GF
GA
Pts
Finish
Conference Tournament
GP
W
L
T
GF
GA
ECAC Division II
Overall Record
1969-70
7
5
2
0
52
25
10
6th
Did not qualify
17
14
3
0
1970-71
8
5
2
1
45
31
11
4th
Did not qualify
14
7
6
1
76
67
1971-72
12
10
2
0
87
46
20
2nd
W, QF 9-5 (Boston St.) W, SF 4-0 (Vermont) L, F (Mass-Amherst)
21
13
8
0
138
66
1972-73
13
7
6
3
75
66
14
13th
Did not qualify
22
10
12
0
1973-74
7
6
1
0
57
29
12
3rd
Did not qualify
30
18
11
1
1974-75
15
7
7
1
84
66
15
13th
Did not qualify
30
11
18
1
1975-76
14
9
4
1
84
67
19
6th
L, QF 7-4 (Merrimack)
28
11
16
1
1976-77
15
11
4
0
113
54
22
6th West
Did not qualify
25
14
11
0
1977-78
22
12
10
0
110
93
24
8th West
L, QF 7-3 (Middlebury)
27
14
13
0
1978-79
19
11
8
0
22
6th West
L, QF 5-4 (Elmira)
27
15
12
0
1979-80
20
6
14
0
81
97
12
12th West
Did not qualify
24
9
15
0
1980-81
21
7
12
0
14
12th West
Did not qualify
24
9
13
2
1981-82
Did not qualify
23
7
15
1
1982-83
22
6
15
1
13
13th West
Did not qualify
24
7
16
1
1983-84
22
7
15
0
14
11th West
Did not qualify
24
7
16
1
ECAC Division III
Overall Record
1984-85
23
4
19
0
61
176
8
12th West
Did not qualify
27
5
22
0
1985-86
23
6
16
1
13
10th West
Did not qualify
27
7
19
1
ECAC West
Overall Record
1986-87
22
2
19
1
75
136
5
14th
Did not qualify
25
5
19
1
Links
University of Buffalo website dedictated to the history of hockey at the university