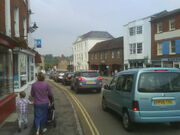 Buckingham was a city of about 20,000 people in western Quebec, Canada. It was just across the Ottawa River from Ottawa, Ontario.
It is now part of the city of Gatineau.
Because of its location, it sometimes entered teams in the Ottawa District Hockey Association and sometimes in the Quebec Amateur Hockey Association.
Teams
Arenas
Centre sportif de Buckingham
Players
External Links
buckingham qc