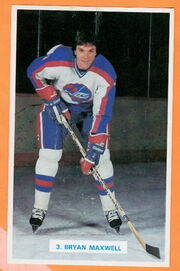 Bryan Maxwell (born September 7, 1955 in North Bay, Ontario) is a retired professional ice hockey player who played 331 games in the National Hockey League and 124 games in the World Hockey Association. He played for the Cleveland Crusaders, Cincinnati Stingers, New England Whalers, Minnesota North Stars, St. Louis Blues, Winnipeg Jets, and Pittsburgh Penguins.
Maxwell played junior hockey for the Medicine Hat Tigers. He was drafted 4th overall by the Minnesota North Stars in the 1975 NHL Amateur Draft and 2nd overall by the Indianapolis Racers in the 1975 WHA Amateur Draft.
He started out in the World Hockey Association for two and a half seasons before joining the North Stars during the 1977-78 NHL season. He was traded to the St. Louis Blues in 1979 and to the Winnipeg Jets in 1981. It was with the Jets from 1981 to 1983 that he enjoyed his greatest success.
Maxwell played two seasons with the Pittsburgh Penguins and then retired in 1985.
He was the coach of the Medicine Hat Tigers when they won the Memorial Cup in 1986-87 and in the next season joined the Los Angeles Kings as an assistant coach.
Maxwell coached the junior Spokane Chiefs from 1989-90 through 1993-94, winning another Memorial Cup in 1990-91. He then coached the junior Lethbridge Hurricanes from 1995-96 thorugh 2002-03. He coached the ECHL hockey team, the Victoria Salmon Kings, out of Victoria, British Columbia, in 2004-05 and 2005-06.
Awards & Achievements
External links