Honoured Member of the Manitoba Hockey Hall of Fame - Builders Category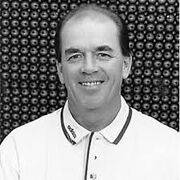 Bryan Andrew Lefley (October 18, 1948, in Grosse Isle, Manitoba, Canada – October 28, 1997, in Bolzano, Italy) was a Canadian professional ice hockey defenceman and coach.
He played junior for the Winnipeg Rangers and senior for the Nelson Maple Leafs. In 1969-70 he turned pro with the Omaha Knights, a New York Rangers' farm team. He spent three years there without getting a shot with the Rangers.
In the 1972 NHL Expansion Draft Lefley was chosen by the New York Islanders and finally got into the NHL. He played a full but so-so season in 1972-73 with the Isles but found himself back in the minors in 1973-74. Chosen by the Kansas City Scouts in the 1974 NHL Expansion Draft, he played only 29 games for the Scouts before, again, going to the minors.
He played 129 games for the Colorado Rockies in 1976-77 and 1977-78.
In 1978 Lefley moved to Europe and played in Switzerland and Germany. He retired in 1981. He played in a total of 228 NHL games and scored 7 goals and 29 assists.
Later on, Lefley coached Düsseldorfer EG, SC Bern, and Ambri-Piotta.
He was the brother of Chuck Lefley.
Career Statistics
[
]
Awards & Achievements
[
]
External links
[
]