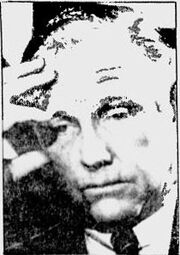 Bruce A. Norris (February 19, 1924 – January 1, 1986) was owner of the Detroit Red Wings from 1955 to 1982, and was also chairman of the National Hockey League's Board of Governors. He was the son of James E. Norris and half-brother of James D. Norris. The Norris family owned the Red Wings for almost fifty years before selling the franchise to Mike Ilitch. Norris was inducted into the Hockey Hall of Fame in 1969, joining his father and brother.
The Norris family controlled the four U.S. teams of the 'Original Six.' In this arrangement, the Detroit Red Wings dominated, with the other teams not developing farm systems. In 1957, Mr. Norris ordered the trade of Ted Lindsay from the Red Wings to Chicago because of Mr. Lindsay's efforts to form the NHLPA union.
Mr. Norris was convicted of fraud and tax evasion for under-reporting ticket sales (he took 1000 seats off the paid attendance) and scalping tickets.