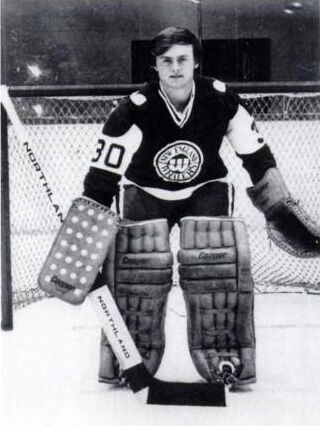 Bruce Landon (born October 5, 1949, in London, Ontario) is a retired professional ice hockey goaltender who is the longtime general manager and owner of the Springfield Falcons of the American Hockey League.
Playing career
Hockey executive
After his retirement, Landon was hired by the Springfield Indians as an executive and broadcaster, and won the AHL's Ken McKenzie Award as the individual who best promoted his team in 1979 and the James C. Hendy Memorial Award in 1981 as the league's top executive. In 1982, Landon became the general manager of the Springfield AHL team, and has remained in that position ever since, leading the Indians franchise to its final two Calder Cup championships in 1990 and 1991.
When the Indians were sold to out-of-town interests in 1994 and moved to Worcester, Massachusetts, Landon put together an investment group to secure an expansion franchise from the AHL, the Springfield Falcons. He has been the president, general manager and owner of the Falcons since then.
See also
External links