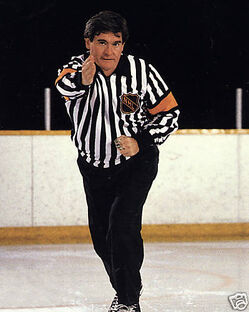 Bruce Hood (b. 1936[1]) was born in Campbellville, Ontario, Canada. He has been an author, businessman, politician, mediator, and a professional ice hockey referee in the National Hockey League (NHL).
During his 21-year NHL career, Hood officiated 1,033 regular season games, 157 Stanley Cup playoff games, three NHL All-Star Games, and three Canada Cups.[2] He was the first professional to referee a World Championship game in 1985 in Prague, Czechoslovakia. As an NHL referee, Hood was instrumental in the formation of the NHL Officials Association in 1969.
He was the last official to wear a number one on his jersey and the last to officiate in all Original Six arenas. In 1994, Hood was nominated to the Hockey Hall of Fame by 12 existing members, including former players like Bobby Hull and Maurice Richard.
One of the last NHL games Hood officiated was an infamous playoff match between the Montreal Canadiens and Quebec Nordiques on April 20, 1984, known as the Good Friday Massacre. The teams brawled at the end of the second period. When the 5 players that were ejected from the game by Hood were not told by the off ice official at the teams' dressing room, the players went back onto the ice for the start of the third period and a second brawl took place.
Earlier in his career Hood was met by then Manager of the Los Angeles Kings Larry Regan as he left the ice at the end of a game in Oakland California and Regan took a swing at Hood and the two wrestled in the hallway - Regan was suspended for 30 days as a result.
For eighteen years, Hood operated developmental camps for hockey officials, which attracted students from several countries. He designed a successful line of officiating equipment, much of which is either still used or used as the basis for modern designs.
Hood authored two best-sellers, "Calling the Shots" in 1988 and "The Good of the Game" in 1999.
Community content is available under
CC-BY-SA
unless otherwise noted.