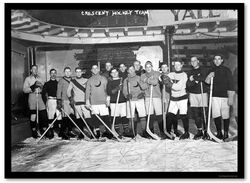 The Brooklyn Crescents were an amateur senior team in Brooklyn, New York. They played in various leagues in the New York City area from around 1900 until the 1930's.
In 1943-44 the name was revived for a team in the Eastern Hockey League that replaced the New Haven Eagles that had withdrawn. They finished in last place with a 5-34-6 record.
They won the New York City championship in 1900, 1901, 1902, 1904, 1905, 1906, 1908, and 1911.