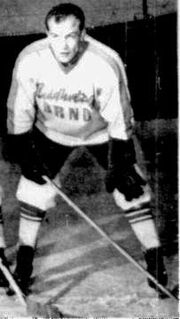 Bronislav Danda (born January 10, 1930, in Hradec Králové, Czechoslovakia) is a retired Czechoslovak left winger and coach.
He played in the 1952, 1956, and 1960 Olympics and the 1953, 1954, and 1955 World Championships. In 80 games he scored 45 goals.
He played for HC Pardubice from 1944 to 1951. He then joined Brno Red Star where he played until 1966. Danda also played and coached in Yugoslavia and Italy. He also coached junior teams in his native country.