The Bridgewater Bandits (previously the Boston Bandits) are a Junior A ice hockey team from Bridgewater, Massachusetts, USA, playing in the United States Premier Hockey League. The team plays home games at the Bridgewater Ice Arena in Bridgewater, Massachusetts
The Bandits organization also fielded teams in the lower level EHL - Elite, as well as youth hockey select teams at the Bantam, Peewee, and Squirt and various other levels. The EHL - Elite team originally played in the Empire Junior B Hockey League until 2013 and then the Metropolitan Junior Hockey League (MetJHL) from 2013 to 2015 at which point the EHL added the Elite Division and the former EHL teams were all promoted to the Premier Division.
The organization moved to the United States Premier Hockey League in 2017.
On November 14, 2019 the franchise rights to the NCDC franchise were sold to the Philadelphia Hockey Club starting with the 2020-21 season. The lower level teams will remain in their USPHL leagues. Over the next few months the organization was sold along with the Bridgewater Ice Arena. The organization reverted to the Bridgewater Bandits name for the 2020-21 season.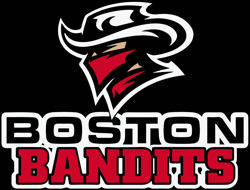 Season-by-season records
[
]
Season
GP
W
L
T
OL
Pts
GF
GA
Regular Season Finish
Playoffs
Eastern Junior Hockey League
1997–98
37
21
15
1
—
43
167
125
4th of 8, EJHL
1998–99
37
10
23
4
—
24
113
170
7th of 8, EJHL
1999–00
40
11
27
2
—
24
151
205
9th of 11, EJHL
2000–01
no data
EJHL
2001–02
38
8
26
1
2
20
103
201
6th of 6, South
10th of 12, EJHL
2002–03
38
11
22
4
1
27
101
194
5th of 6, South
8th of 12, EJHL
2003–04
38
6
28
3
1
16
104
192
T-5th of 6, South
T-9th of 12, EJHL
2004–05
48
10
34
3
1
24
113
201
7th of 7, South
12th of 13, EJHL
2005–06
45
22
18
3
2
49
150
147
3rd of 7, South
7th of 14, EJHL
Lost Quarterfinals, 0-2 vs. Boston Junior Bruins
2006–07
45
23
16
5
1
52
202
166
2nd of 7, South
5th of 14, EJHL
Lost Quarterfinals, 0-2 vs. New England Junior Huskies
2007–08
45
24
15
2
4
54
179
143
2nd of 7, South
5th of 14, EJHL
Lost Quarterfinals, 0-2 vs. Boston Junior Bruins
2008–09
45
23
13
6
3
55
180
155
2nd of 7, South
5th of 14, EJHL
Won Quarterfinals, 1-0-1 vs. Syracuse Stars
Lost Semifinals, 0-2 vs. Jersey Hitmen
2009–10
45
16
24
2
3
37
154
200
6th of 7, South
11th of 14, EJHL
Did not qualify
2010–11
45
13
26
3
3
32
139
203
7th of 7, South
10th of 14, EJHL
Did not qualify
2011–12
45
23
20
0
2
48
161
157
4th of 7, South
7th of 14, EJHL
Lost First Round, 0-1-1 vs. New England Junior Huskies
2012–13
45
18
23
—
4
40
121
153
6th of 7, North
10th of 14, EJHL
Lost First Round vs. Bay State Breakers
Eastern Hockey League
2013–14
44
22
17
3
2
49
149
136
3rd of 5, North
6th of 17, EHL
Won Round 1, 2-0 vs. New York Apple Core
Won Quarterfinals, 2-0 vs. New York Bobcats
Lost Semifinals, 1-2 vs. New Hampshire Jr. Monarchs
2014–15
44
18
20
—
6
42
118
138
3rd of 5, Boston Div
11th of 19, EHL
Lost Round 1, 1-2 vs. Wilkes-Barre/Scranton Knights
2015–16 (Premier)
41
30
7
—
4
64
155
93
1st of 9, North Conf.
2nd of 18, EHL-Premier
Won First Round, 2-0 vs. New England Wolves
Lost Second Round, 0-2 vs. Walpole Express
2015-16 (Elite)
42
25
10
-
7
168
119
57
4th of 8 Elite
Won Round Robin Pool A 2-0-1
Lost Final 0-2 (Boston Jr Rangers)
2016–17 (Premier)
48
23
24
-
1
146
163
47
5th Boston
Won First Round, 2-0 vs. New Hampshire Jr. Monarchs
2016-17 (Elite)
42
28
11
-
3
203
102
59
3rd Northern
Lost First round 2-3 (so) (Boston Jr Rangers)
United States Premier Hockey League
Season
GP
W
L
OL
SL
Pts
GF
GA
Regular Season Finish
Playoffs
2017-18 (NCDC)
50
20
26
4
-
154
175
44
8th of 11
L, QF 0-2 (Islanders Hockey Club)
2017-18 (Premier)
44
26
15
3
-
151
124
55
5th North Division
Lost DQF, 0-2 vs. South Shore Kings
2017-18 (Elite)
44
30
11
3
-
191
119
63
3rd North Division
Won, DSF 2-0 vs Boston Jr. Bruins Finish 3rd (1-2-0) in Pool A in Quarterfinals
2018-19 (NCDC)
50
26
18
2
-
153
149
58
7th
L, QF 0-2 (Boston Jr. Bruins)
2018-19 (Premier)
44
33
7
4
-
145
88
70
2nd of 7
W, DSF 2 games to none (South Shore Kings) Won Pool Z at Nationals with 3-0-0 record, lost semifinal 5-1 (Hampton Roads Whalers)
2018-19 (Elite)
43
30
9
4
0
195
106
64
3rd of 7
W, DQF 2 games to none (Springfield Pics) L, DSF 2 games to none (Northern Cyclones)
2019-20 (NCDC)
50
25
17
4
4
196
182
58
7th of 13
Playoffs cancelled
2019-20 (Premier)
44
24
15
-
5
53
151
115
4th New England
Playoffs cancelled after team advances to National Tournament
2019-20 (Elite)
44
27
14
1
2
148
111
57
3rd of 4 North
Lost DSF 0-2 (Cyclones)
2020-21 (Premier)
30
19
8
-
3
102
81
41
T-5th New England
W, DQF 2G-1 (Pics L, DSF 0G-2 (Islanders Hockey Club|Islanders)
2020-21 (Elite)
31
11
15
5
0
120
159
27
5th North
L, DSF 2G-0 (Jr. Bruins)