Brianne McLaughlin
Position
Goaltender
Height
Weight
5 ft 8 in (1.73 m)
132 lb (60 kg)
CHA Team
Robert Morris Colonials
Born

Sheffield Village, Ohio
June 20, 1987,
Pro Career
2005 – present
Brianne McLaughlin (born June 20, 1987) is an American ice hockey goaltender. She was named to the United States women's ice hockey team for the 2010 Winter Olympics.[1]
Playing career
McLaughlin attended Elyria Catholic High School in Elyria, Ohio. She went on to play ice hockey for four years (2006 to 2009) at Robert Morris Colonials women's ice hockey program. McLauglin set an NCAA record of 3,809 career saves.[2] Overall, she stopped 3,809 of the 4,188 shots she faced, resulting in a .910 save percentage.[3] She recorded at least 50 saves four times as a senior with the Robert Morris Colonials in 2008-09. In the 2010 CWHL Draft, she was drafted 24th overall by the Burlington Barracudas but never played a game for them.
Team USA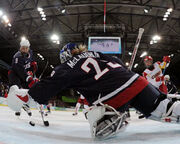 In 2008, McLaughlin played one game in the U.S. Women's Under-22 series with Canada. She stopped 20 of 26 shots in just under 44 minutes.[4] She made her Olympic debut for the US on February 14, 2010. It was a 12-1 U.S. victory over China in the preliminary round.
NWHL
In July 2015, McLaughlin signed with the Buffalo Beauts, making her the first player in franchise history to sign a contract.[5]
Awards and honors
References