Brianne Jenner
Position
Forward
Height
Weight
5 ft 9 in (1.75 m)
160 lb (73 kg)
ECAC
CWHL Team
Cornell
Mississauga Chiefs
Born

Oakville, ON
May 4, 1991,
Pro Career
2008 – present
Brianne Jenner (born May 4, 1991) is a member of Canada's national women's hockey team. She made her debut for the team at the 2010 Four Nations Cup and won a gold medal. She is also a member of the Cornell Big Red women's ice hockey program.
Playing career
In high school, Jenner was the captain of the Appleby College hockey team. Prior to playing with Cornell, Jenner played with the CWHL's Mississauga Chiefs. She was also the captain of Team Ontario Red at the 2008 National Women's Under-18 Championship. She scored the game-winning goal in double overtime of the gold medal game.[1]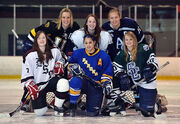 Cornell
Oct 29-30, 2010: Brianne Jenner factored in both victories for the Big Red over the weekend. On October 29, she had three assists at Quinnipiac. The following day, she notched a pair of goals and added an assist Saturday at Princeton.
In three games played between February 7 and 11, 2012, Jenner led the Big Red with eight points. Versus nationally ranked Mercyhurst, Jenner had a goal and an assist in a February 7 victory over the Lakers. In a 5-0 shutout win over the Brown Bears (on February 10), Jenner assisted on two goals. On February 11, Jenner scored the game-winning goal versus the Yale Bulldogs that clinched the ECAC Hockey regular-season championship. In addition, she would go on to score another goal, while notching her 30th assist of the season.
Hockey Canada
On November 27, 2009, Jenner and defender Jocelyne Larocque were released from Hockey Canada's centralized roster to determine the final roster for the 2010 Vancouver Winter Games.[3] In March 2011, she was invited to the Canadian national women's ice hockey team selection camp to determine the final roster for the 2011 IIHF Women's World Championships.[4]
Awards and honors
Toronto Star High School Athlete of the Week (Week of December 5, 2007)[5]
2009 Toronto Star's high school girls All-Stars[6]
NCAA
References