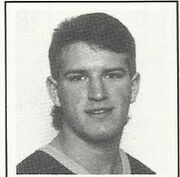 Brian Sakic (born September 4, 1971 in Burnaby, British Columbia, Canada) is a former professional ice hockey player.
Playing career
[
]
Sakic started his junior career with the Swift Current Broncos of the WHL. His brother, retired NHLer Joe Sakic, was also on the team. Brian was drafted in the fifth round, 93rd overall in the 1990 NHL Entry Draft by the Washington Capitals; however, he would never play a single game in the NHL. However, he did manage to set WHL records for career assists, with 405, and points, with 591.
His jersey number has been retired by the Tri-City Americans.
Sakic retired from professional hockey in 1999.
Career statistics
[
]
 
 
Regular season
 
Playoffs
Season
Team
League
GP
G
A
Pts
PIM
GP
G
A
Pts
PIM
1987–88
Swift Current Broncos
WHL
65
12
37
49
12
9
3
8
11
0
1988–89
Swift Current Broncos
WHL
71
36
64
100
28
12
9
9
18
8
1989–90
Swift Current Broncos
WHL
8
6
7
13
4
--
--
--
--
--
1989–90
Tri-City Americans
WHL
58
47
92
139
8
--
--
--
--
--
1990–91
Tri-City Americans
WHL
69
40
122
162
19
5
2
3
5
4
1991–92
Tri-City Americans
WHL
72
45
83
128
55
5
4
4
8
14
1992–93
Erie Panthers
ECHL
51
18
33
51
22
--
--
--
--
--
1993–94
Flint Generals
CoHL
64
39
86
125
30
10
6
7
13
2
1994–95
Flint Generals
CoHL
62
28
85
113
22
6
1
5
6
0
1995–96
Flint Generals
CoHL
74
30
66
96
30
15
8
12
20
0
1996–97
Austin Ice Bats
WPHL
16
2
8
10
23
--
--
--
--
--
1996–97
Flint Generals
CoHL
53
19
47
66
4
13
5
15
20
4
1997–98
Flint Generals
UHL
72
21
99
120
10
3
0
2
2
0
1998–99
Flint Generals
UHL
71
36
72
108
10
12
4
15
19
2
WHL totals
343
186
405
591
126
31
18
24
42
26
CoHL/UHL totals
396
173
455
628
106
59
24
56
80
8
External links
[
]