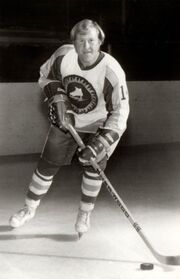 Brian Bradley (b. December 14, 1944 in Sudbury, Ontario, Canada) is a retired professional left winger who played chiefly in the minor leagues, but did play 190 games in the World Hockey Association (WHA).
Bradley began his pro career in 1965-66 as he joined the Oklahoma City Blazers, the then farm team of the Boston Bruins. Bradley however never suited up for the Bruins, nor any National Hockey League team. He stayed in the minors until 1972-73, where he made his major league debut in the WHA with the New York Raiders. He then played for the New York Golden Blades/New Jersey Knights and San Diego Mariners with further minor league stays. In 1976, Bradley called it quits and retired from playing.
Bradley will forever stand as the Oklahoma City Blazers' second all-time top scorer with 188 points, behind Gregg Sheppard.
Gallery
External Links