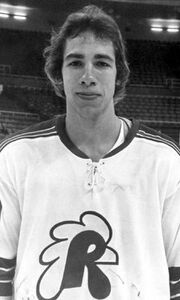 Brett Callighen (born May 15, 1953 in Toronto, Ontario) is a retired professional ice hockey forward who played 160 games in the National Hockey League and 213 games in the World Hockey Association. He played for the New England Whalers and Edmonton Oilers.
He started out with the Flint Generals in 1974 and made it to the New England Whalers in 1976. Callighen was traded to the Edmonton Oilers during the 1976-77 season.
He had impressive numbers with the Oilers, scoring 20 goals in 1977-78, 31 in 1978-79, 23 in 1979-80 as the team moved to the NHL, and 25 in 1980-81 in only 55 games. Unfortunately he suffered a severe eye injury during the 1980-81 season which kept him out of hockey for six months. A comeback with the Oilers in 1981-82 was not successful because of the lost sight in that eye.
Callighen played two years in Europe and then retired. A comeback in 1985-86 with the Adirondack Red Wings lasted only 11 games.
In the NHL he played in 160 games and scored 56 goals and 89 assists. In the WHA he scored 66 goals and 95 assists in 213 games.
External links
[
]