"Bobcats" is the name of the sports teams of Brandon University, located in Brandon, Manitoba. The university was known as Brandon College from 1899 until 1967 and their teams were called the "Caps" from as early as 1910 until 1969. They are members of the Canada West Universities Athletic Association (CWUAA) and U Sports (formerly known as "CIS"). They no longer compete in the hockey league.
History of the CapsEdit
The Brandon College Caps started as a college hockey team playing in junior and intermediate leagues. They played in the Brandon Town League against junior teams, including (at least) the 1923 and 1925 provincial junior playoffs for the Turnbull Cup. In 1923 they lost the Brandon final to the Brandon Tigers by an 8-1 score. In 1925 they lost to the Portage Vics 8-2 in a provincial semi-final. The Caps were then in the Big Six Intermediate Hockey League (BSIHL) from 1949-50 to 1953-54. They were also in the SouthWest Hockey League (SWHL) in at least 1960-61 and 1968-69. Wikia results are missing for many seasons.
Brandon College played in the Western Canadian Intercollegiate Athletic Union (WCIAU) in 1955, 1957, and 1958. University hockey did not return to Brandon until 1969-70.
History of the BobcatsEdit
In 1969-70 the Bobcats joined the newly-named Western Canadian Intercollegiate Athletic Association (WCIAA, or WIAA).
In 1972-73 the Bobcats joined Lakehead University, the University of Manitoba, and the University of Winnipeg in the newly-formed Great Plains Athletic Conference (GPAC). They were joined by the University of Regina in 1976-77.
In 1985-86 the Bobcats, the University of Manitoba, and the University of Regina joined the CWUAA. The Bobcats' final season was played in 2001-02.
Season-by-Season RecordsEdit
In BSIHL years, click on season for team stats and BSIHL for league stats.
In other years, click on season/league for league stats.
CommemorationsEdit
ChampionshipsEdit
INTERMEDIATE (SWHL): 1969
UNIVERSITY (GPAC): 1974, 1975, 1981, 1983
University CupsEdit
Alternate LogosEdit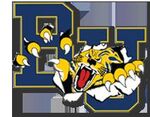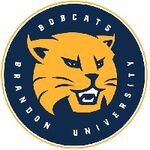 Current TeamsEdit
Former TeamsEdit
Alumni StoriesEdit
Community content is available under
CC-BY-SA
unless otherwise noted.