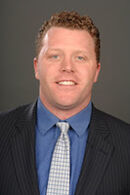 Hometown: Dauphin, Manitoba
Son of former Dauphin King player Wayne Church
Older brother of former WHL player

Jeff Church

Nephew of former NHL player Jeff McDill
Position: Left Wing, Coach, & General Manager
Selected by Washington Capitals 1st round (#17) in 1995 NHL Entry Draft
started his junior career with the local Kings of the MJHL. ... played three successful years with the Prince Albert Raiders in the WHL. ... in 1996-97, made the leap to minor pro with the AHL's Portland Pirates. ... the following year, spent the majority of time in the AHL, but made it up to the NHL for two games with the Capitals. ... played in the minors the next couple of seasons, before being traded to the Edmonton Oilers. ... career continued at the minor pro level splitting his time between the AHL and the ECHL. ... retired as a player following the 2005-06 season, and joined Phoenix of the ECHL as an assistant coach. ... with eight games remaining in the season became the team's head coach, and the Roadrunners made their first ever ECHL playoff appearance. ... added general managers title in 2007-08. ... nephew of former NHL player Jeff McDill, another two of his uncles, Kirk Dawson and Rob McDill played for the Dauphin Kings, and his Dad Wayne dressed for one game. ...
Career Statistics
Playing
Coaching
Managing
Career Moves
Traded to Edmonton by Washington for the rights to Barrie Moore, February 3, 1999.
Signed as a free agent by Portland (AHL), June 15, 2000.
External links