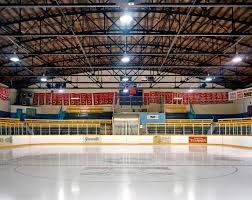 The Bracebridge Memorial Arena is an indoor arena located in Bracebridge, Ontario.  The arena was built in 1949 replacing the Yearley's Rink which burned down in 1944.
In January of 1952 the arena was host to a game consisting of two teams of retired National Hockey League players which was the start of NHL Oldtimers' Hockey and it was also the first hockey game play in Canada to be been on network television.
The Arena is home to the Bracebridge Skating Club, South Muskoka Minor Hockey Club and the Bracebridge Hockey Hall of Fame showcasing Irvine "Ace" Bailey, Frank Carson and Roger Crozier.
The facility consists of an indoor ice surface and summer dry floor surface, concession operation, meeting room, community hall with a kitchen and bar area. It has a seating capacity of 1,200 people with a total spectator capacity of 1,400 people