The Boyle Trophy was awarded as the championship trophy for the men's senior champions of St. John's, Newfoundland  from 1904 to 1971.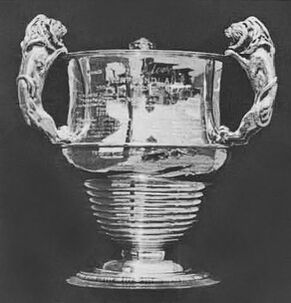 Along with the opening of the Prince's Rink in 1899, the St. John's City League was formed with seven teams in January 1899. From 1900-1902, the winners of the league received the Hunter Hockey Cup. The Victorias won it all three years, earning the trophy permanently.  A new trophy was needed for the league.
Background
The Boyle Trophy was donated by Sir Charles Cavendish Boyle, who served as the governor of Newfoundland from 1901 to 1904.  The trophy was originally intended to be an intercolonial competition between Newfoundland and the Canadian Maritime provinces.  This would not come to be and the trophy became the championship trophy for St. John's senior hockey and stayed as such until the senior hockey league collapsed in 1971.  The trophy was in limbo after the league collapsed. And in a move that upset many the trophy became the Newfoundland Provincial Boys 4A High School championship trophy starting with the 1984-85 school year.
Trophy
Senior League trophy Winners
1904 - Terra Novas
1905 - Terra Novas
1906 - Feildians
1907 - Victorias
1908 - Crescents
1909 - Victorias
1910 - Crescents
1911 - Crescents
1912 - Crescents
1913 - Crescents
1914 - Crescents
1915 - Feildians
1916 - Terra Novas
1917 - Victorias
1918 - Terra Novas
1919 - Terra Novas
1920 - Feildians
1921 - Feildians
1922 - Feildians
1923 - Guards
1924 - Feildians
1925 - Feildians
1926 - Terra Novas
1927 - Feildians
1928 - St. Bon's
1929 - Terra Novas
1930 - St. Bon's
1931 - St. Bon's
1932 - St. Bon's
1933 - St. Bon's
1934 - Holy Cross
1935 - Guards
1936 - St. Bon's
1937 - St. Bon's
1938 - St. Bon's
1939 - St. Bon's
1940 - St. Bon's
1941 - Royals
1942 - No competition
1943 - No competition
1944 - St. Bon's
1945 - St. Bon's
1946 - St. Bon's
1947 - St. Bon's
1948 - St. Bon's
1949 - St. Bon's
1950 - St. Bon's
1951 - St. Bon's
1952 - St. Bon's
1953 - St. Bon's
1954 - St. Bon's
1955 - St. Bon's
1956 - St. Bon's
1957 - St. Bon's
1958 - St. Bon's
1959 - St. Bon's
1960 - St. Pat's
1961 - St. Pat's
1962 - Guards
1963 - Guards
1964 - Guards
1965 - Memorial University Beothuks
1966 - Guards
1967 - Memorial University Beothuks
1968 - Memorial University Beothuks
1969 - St. Bon's
1970 - Guards
1971 - Guards
Sources