The Boston University Terriers women's ice hockey represent Boston University. The Terriers play in the Hockey East conference.
History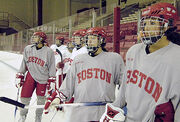 Caroline Boudreau scored the first goal in BU program history. This was accomplished against Northeastern on Oct. 7, 2005. [1] In the same game, Gina Kearns scored the first shorthanded goal in Terriers history.[2]
On March 8, 2010, sophomore Tara Watchorn scored at 9:52 in overtime as the Number 3 seeded Terriers triumphed over No. 5 seed Connecticut Huskies women's ice hockey program. The game was played at at Schneider Arena on the Providence College campus. The Terriers clinched their first ever Hockey East Tournament title and earned a spot in the NCAA Tournament. It was Watchorn's second goal of the season. The 2010 Hockey East Tournament Championship game was the first ever to go into overtime in the eight-year history of the league. [3]
Arenas
Head Coaches
Year by Year Record
Season
GP
W
L
T
GF
GA
Pts
Finish
Conference Tournament
GP
W
L
T
GF
GA
Hockey East
Overall Record
2005-06
21
6
13
2
36
66
14
6th
Did not qualify
33
12
17
4
78
96
2006-07
21
10
9
2
52
51
22
5th
Did not qualify
34
19
12
3
93
80
2007-08
21
11
9
1
47
44
23
T-3rd
L, SF 8-0 (New Hampshire)
35
15
17
3
92
91
2008-09
21
10
6
5
62
41
25
3rd
W, QF 2-1 (Northeastern) L, SF 3-2 (Boston College)
36
18
11
7
95
77
2009-10
21
10
6
5
54
41
28
T-2nd
W, QF 3-1 (Boston College) W, SF 4-0 (New Hampshire) W, F 2-1 (ot) (New Hampshire)
34
14
8
12
93
80
2010-11
21
15
3
3
66
33
33
1st
L, SF 4-2 (Northeastern)
32
28
4
4
117
56
2011-12
21
14
7
0
68
47
28
3rd
W, QF 9-1 (New Hampshire) W, SF 5-2 (Boston College) W, F 2-1 (2ot) Providence)
38
14
23
1
126
99
2012-13
21
18
2
1
89
55
37
1st
W, QF 5-1 (Connecticut W, SF 4-0 (Providence) W, F 5-2 (Northeastern)
37
28
6
3
139
88
2013-14
21
14
7
0
72
54
28
T-2nd
W, QF 3-2 (Providence) W, SF 3-2 (Northeastern) W, F 3-2 (Boston College)
38
24
13
1
113
99
2014-15
21
15
5
1
80
50
31
2nd
W, QF 2 games to none (Vermont) W. SF 6-1 (Northeastern) W, F 4-1 (Boston College)
37
25
9
3
141
94
2015-16
24
17
5
2
96
70
36
3rd
W, QF 2 games to 1 (Vermont) W, SF 4-3 (Northeaster) L, F 5-0 (Boston College)
39
23
14
2
140
119
2016-17
24
12
8
4
83
62
28
3rd
W, QF 2 games to 1 (New Hampshire) L, SF 2-1 (Northeastern)
37
19
12
6
130
104
2017-18
24
8
11
5
72
66
21
6th
L, QF 2 games to 1 (Maine)
37
14
17
6
113
100
2018-19
27
15
6
6
86
53
36
3rd
W, QF 2 games to none (New Hampshire) L, SF 5-1 (Boston College)
37
21
8
8
118
70
2019-20
27
18
6
3
77
43
39
2nd
L, QF 2 games to none (Maine)
36
24
8
4
108
58
2020-21
11
6
5
0
22
20
18
5th
L, QF 4-3 (Providence)
12
6
6
0
25
24
NCAA Tournament Appearances
| Season | Quarterfinals | Semifinals | Championship |
| --- | --- | --- | --- |
| 2010 | L, 4-1 (Mercyhurst) | -- | -- |
| 2011 | W, 4-2 (Mercyhurst) | W, 4-1 (Cornell) | L, 4-1 (Wisconsin) |
| 2012 | L, 8-7 (3ot) (Cornell) | -- | -- |
| 2013 | W, 5-3 (Clarkson) | W, 4-1 (Mercyhurst) | L, 6-3 (Minnesota) |
| 2014 | L, 5-1 (Minnesota) | -- | -- |
| 2015 | L, 5-1 (Wisconsin) | -- | -- |
Current roster
Awards and honors
Melissa Anderson, 2010 WHEA Second-Team All-Star[4]
Melissa Anderson, 2010 Frozen Four Skills Competition participant
Kasey Boucher, 2010 WHEA Honorable Mention All-Star
Kasey Boucher, 2010 Hockey East Sportsmanship Award
Jill Cardella – Boston University, Bauer Rookie of the Month, November 2009[5]
Jill Cardella - Runner up, 2010 Hockey East Rookie of the Year[6]
Jill Cardella, 2010 WHEA All-Rookie Team [7]
Melissa Haber, 2010 Frozen Four Skills Competition participant[8]
Jillian Kirchner, Hockey Player of the Week (Week of October 5, 2009)[9]
Ashley Leichliter - 2010 Turfer Athletic Award[10]
Tara Watchorn, 2010 WHEA Second-Team All-Star
Tara Watchorn, 2010 New England Hockey Writers All-Star Team [11]
Hockey East All-Tournament Team
Melissa Anderson, F: 2010 Women's Hockey East All-Tournament Team
Melissa Haber, G: 2010 Women's Hockey East All-Tournament Team
Melissa Haber, 2010 Women's Hockey East Tournament Most Valuable Player
Tara Watchorn, D: 2010 Women's Hockey East All-Tournament Team
References