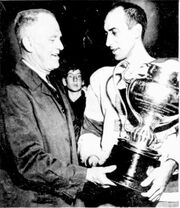 The Bolton Cup was awarded to the Eastern Canadian Champion of the Allan Cup playdowns until 2003.
After the 2003 Allan Cup the qualifying set up was changed. Ontario, Quebec and Atlantic Canada were each given their own qualifying spots. Quebec and Ontario already had provincial championships set up and the Bolton Cup was retired.
Replacement Events
Edit
The Ontario championship, the Renwick Cup became the final qualifier for what is called the Central region.
 Quebec's championship was the final qualifier for what is now the Eastern Region.
Teams marked with * won the Allan Cup that year