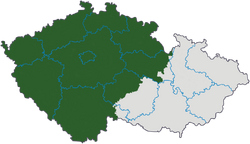 Bohemia comprises the roughly western two thirds of the Czech Republic.
Prior to 1918, it was a part of the Austrian Empire. It did have a separate membership in the International Ice Hockey Federation.
After 1918 its membership was assumed by Czechoslovakia.
The Bohemian national ice hockey team won the golden medals at the European championships in 1911 and 1914, years before Bohemia, a kingdom within Austria-Hungary, became a part of Czechoslovakia, another successful ice hockey superpower. After the split of Czechoslovakia, the Czech national ice hockey team continued the tradition of the Bohemian team. See also the Czechoslovak national ice hockey team.
European Championships In 1911, Bohemia first entered the European championships. In the first game of the tournament, Bohemia destroyed Switzerland 13-0, followed by other big wins against Germany and Belgium. Bohemia won the silver in 1913, and then Gold again in 1914.
First match: January 23, 1909, Chamonix, France: France 8-1 Bohemia
Last match: February 24, 1940, Garmisch, Germany: Bohemia 5-0 Germany
Largest victory: January 18, 1914, Les Avants, Switzerland: Bohemia 17-0 Belgium
Largest defeat: January 24, 1909, Chamonix, France: Great Britain 11-0 Bohemia
National Teams
Edit
Community content is available under
CC-BY-SA
unless otherwise noted.