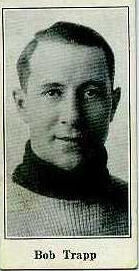 Robert Albert Trapp (December 16, 1899 – November 20, 1979) was a Canadian professional ice hockey forward who played 83 games in the National Hockey League for the Montreal Canadiens and Chicago Black Hawks. He was born in Pembroke, Ontario.
He played senior hockey for the senior Toronto R & AA team from 1914 to 1916. After serving in the Canadian Army in World War I, Trapp then played one season for the senior Toronto Veterans in 1918-19.
In 1919-20 and 1920-21 Trapp played for the Edmonton Eskimos in the Alberta Big Four League and then played four seasons for the same team in the major league Western Canada Hockey League. In 1925 he was sent to the Portland Rosebuds as part of a trade for Eddie Shore.
The league folded in 1926 but Trapp went to the new Chicago Black Hawks NHL team which purchased the entire Portland roster. Trapp played two seasons in Chicago, scoring 4 goals and 4 assists in 82 games.
He was sent down to the Tulsa Oilers in 1928 where he played for most of four seasons. The Providence Reds accquired him in the middle of the 1931-32 season. He played there until he retired in 1934, getting in one game for the Montreal Canadiens in 1932-33.
External links
[
]