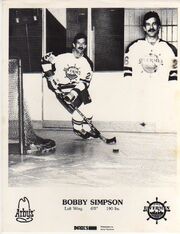 Robert Samuel Simpson (born November 17, 1956 in Kahnawake, Quebec) is a retired Canadian professional ice hockey forward who played 175 games in the National Hockey League for the Atlanta Flames, Pittsburgh Penguins, and St. Louis Blues.
He played for the Sherbrooke Castors and was chosen 28th overall by the Atlanta Flames in the 1976 NHL Amateur Draft.
Simpson stepped right into the Flames' roster, scoring 13 goals in 72 games in the 1976-77 season. The next year he spent part of the season in the minor pros. In 1978-79 he played all season in the minors.
He was traded to the St. Louis Blues for Curt Bennett in 1979 and signed as a free agent with the Pittsburgh Penguins in 1981. Neither move resulted in much NHL time for Simpson.
He retired in 1987. Simpson played in 175 NHL games, scoring 35 goals and 29 assists.
External links
Bobby Simpson's career stats at The Internet Hockey Database