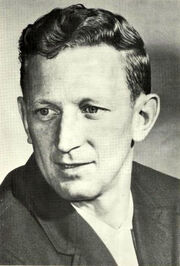 Bobby Kromm (born June 8, 1928 in Calgary, Alberta, Canada) is a former NHL head coach who won the Jack Adams Award in 1978, turning the Detroit Red Wings around by 37 more points in the standings than the team's previous year's record. They finished second in the standings that year behind the Montreal Canadiens. The Red Wings made the playoffs for the first time in eight years, and even played in the second round before losing to the Scotty Bowman-led Canadiens. Kromm and the Red Wings managed to win one game of the series (game two), but Montreal went on to win the series in five games and then advanced to win the Stanley Cup.
Prior to coaching the Wings, Kromm had been a successful coach in the World Hockey Association, where he had guided the high-flying Winnipeg Jets to the 1976 Avco Cup championship. That fall, he was as an assistant coach for Canada at the inaugural Canada Cup.
In 1961 Kromm took the Trail Smoke Eaters to a World Championship win over the Russians. The Trail Smoke Eaters represented Canada that year.
Kromm's son, Richard, played ten years in the NHL for the Calgary Flames and New York Islanders.
Community content is available under
CC-BY-SA
unless otherwise noted.