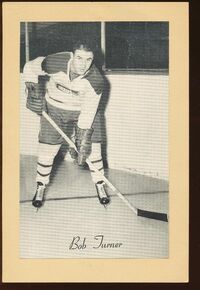 Robert George "Bob" Turner (January 31, 1934 – February 7, 2005) was a Canadian professional defenceman for the Montreal Canadiens and the Chicago Black Hawks in the NHL. Turner was born in Regina, Saskatchewan. He won the Stanley Cup 5 times from 1956 to 1960 with the Canadiens.
Tuner started out with the junior Regina Pats (a Montreal Canadiens farm team) from 1951-54. He also played for the senior Regina Capitals in 1952-53.
In 1954-55 he played for the Shawinigan Falls Cataractes as they won the Edinburgh Trophy.
The next year he joined the Canadiens just in time for their five Stanley Cups in a row. He stayed with the Canadiens until 1961 when he was traded to the Chicago Blackhawks.
Turner played two seaons for the Hawks and one for the Buffalo Bisons before retiring in 1964.
He was the coach of the Regina Pats from 1965 to 1977, except for 1969-70. In those two years Turner was a scout for the California Golden Seals.
Awards and achievements
1956 Stanley Cup Championship (Montreal)
1957 Stanley Cup Championship (Montreal)
1958 Stanley Cup Championship (Montreal)
1959 Stanley Cup Championship (Montreal)
1960 Stanley Cup Championship (Montreal)
Saskatchewan Hockey Hall of Fame - Class of 2016
External links