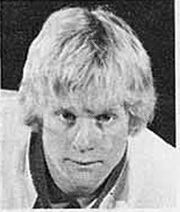 Bob Suter (born May 16, 1957 in Madison, Wisconsin) is a retired American ice hockey defenseman and member of the Miracle on Ice 1980 U.S. Olympic hockey team won the gold medal team. He is the brother of former National Hockey League (NHL) player Gary Suter and father of current NHLer Ryan Suter and Garrett Suter who plays for the University of Wisconsin–Stevens Point in the Northern Collegiate Hockey Association.
Amateur career
Edit
Suter Attended Madison East High School. He played college hockey at University of Wisconsin–Madison and was a member of the 1977 NCAA hockey champion Wisconsin Badgers. He was mostly noted for his rough play, setting several Badger records for penalty minutes before leaving in 1979. He initially joined the Tulsa Oilers under a tryout contract for a few games in late 1979, but soon joined the 1980 US Olympic hockey team on a full time basis, where he won the gold medal.
Professional career
Edit
Suter was selected with the 120th pick in the 1977 NHL Entry Draft by the Los Angeles Kings of the NHL and also no. 58 overall in the 1977 World Hockey Association draft by the Birmingham Bulls. He rejected a Los Angeles' contract offer following the 1980 Olympics, and instead sat out 1980-81 season to become an unrestricted free agent. He came out of retirement in the spring of 1981 to play for the United States team at the 1981 World Championship tournament in Stockholm. Suter signed with the Minnesota North Stars as unrestricted free agent in 1981, but spent the entire 1981–82 season in the Central Hockey League with the Nashville South Stars farm team. He retired in 1982 without playing a single game in the NHL.
Coaching career
Edit
Suter coached the Madison Capitals of the United States Hockey League in 1984-85 and 1985-86.
Awards and achievements
Edit
WCHA All-Star Second Team: 1978-79 (Wisconsin)
External links
Edit
Community content is available under
CC-BY-SA
unless otherwise noted.