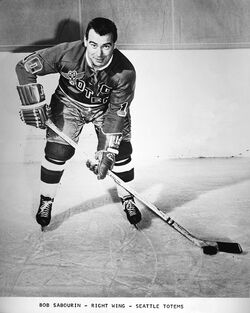 Robert Patrick Sabourin (March 17, 1933 – July 9, 2020) was a Canadian professional ice hockey player, coach, and general manager. A left winger, he played with the Toronto St. Michael's Majors and was called up on an emergency basis and would play in one game in the National Hockey League (NHL), for the Toronto Maple Leafs during the 1951–52 NHL season.[1] He later played in the minor leagues, eventually joining the Jacksonville Rockets of the Eastern Hockey League in the 1960s. He subsequently became their head coach and general manager, serving with the team until they folded in 1971.[1] Afterward he remained in Jacksonville, where he formed an advertising company with partner Jimmy Murdock to promote concerts, professional wrestling, and other events.[2] He later owned the skating rink Skate World (now Jacksonville Ice) and owned another hockey team, the Jacksonville Bullets, which folded in 1996.[1] He died on July 9, 2020.[3]
Community content is available under
CC-BY-SA
unless otherwise noted.