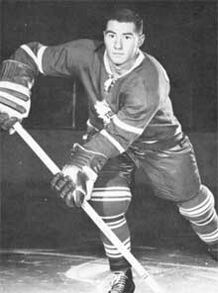 Robert Jesse "Bob" Pulford (born March 31, 1936 in Newton Robinson, Ontario) is a retired Canadian professional centre who played for the Toronto Maple Leafs and Los Angeles Kings in the National Hockey League. He has been a coach and executive for the Chicago Blackhawks for the past thirty years.
Playing Career
Pulford played junior hockey for the Toronto Marlboros for three seasons from 1953 to 1956, winning two Memorial Cups under coach Turk Broda. He moved up to the Maple Leafs for the 1956–57 season and remained with the team for 14 seasons. Pulford was an important member of the Leaf teams that won four Stanley Cups in 1962-63-64-67. The Leafs traded him to the Los Angeles Kings on September 3, 1970, where he played two seasons and retired as a player in 1972.
Pulford became head coach of the Kings for the 1972–73 season and led the team for five years before becoming coach and general manager of the Chicago Blackhawks in 1977. He served as coach on three separate occasions from 1977 to 1987. He was promoted to senior vice president in 1990, but took on the general manager's duties again from 1992 to 1997, from 1999 to 2000, and from 2003 to 2005. During his third stint as general manager, Pulford nominally doubled as head coach. However, Lorne Molleken remained the team's main operator on the bench, with Pulford as more or less a senior consultant.
In 7 seasons: 426 games as Hawks coach, Bob Pulford won 182, lost 176, and tied 68. His win percentage was .507 and he is ranked second behind Billy Reay in most regular season games won as Hawk coach.
He won the Jack Adams Award for best coach in the NHL in 1975.
He was inducted into the Hockey Hall of Fame in 1991.
On October 11, 2007, Pulford was named an officer with the Wirtz Corporation and is no longer part of the day to day management of the Blackhawks.
Career Statistics
 
 
Regular season
 
Playoffs
Season
Team
League
GP
G
A
Pts
PIM
GP
G
A
Pts
PIM
1954–55
Toronto Marlboros
OHA
47
24
22
46
0
—
—
—
—
—
1955–56
Toronto Marlboros
OHA
48
30
25
55
0
—
—
—
—
—
1956–57
Toronto Maple Leafs
NHL
65
11
11
22
32
—
—
—
—
—
1957–58
Toronto Maple Leafs
NHL
70
14
17
31
48
—
—
—
—
—
1958–59
Toronto Maple Leafs
NHL
70
23
14
37
53
12
4
4
8
8
1959–60
Toronto Maple Leafs
NHL
79
24
28
52
81
10
4
1
5
10
1960–61
Toronto Maple Leafs
NHL
40
11
18
29
41
5
0
0
0
8
1961–62
Toronto Maple Leafs
NHL
70
18
21
39
98
12
7
1
8
24
1962–63
Toronto Maple Leafs
NHL
70
19
25
44
49
10
2
5
7
14
1963–64
Toronto Maple Leafs
NHL
70
18
30
48
73
14
5
3
8
20
1964–65
Toronto Maple Leafs
NHL
65
19
29
39
46
6
1
1
2
16
1965–66
Toronto Maple Leafs
NHL
70
28
28
56
51
4
1
1
2
12
1966–67
Toronto Maple Leafs
NHL
67
17
28
45
28
12
1
10
11
12
1967–68
Toronto Maple Leafs
NHL
74
20
30
50
40
—
—
—
—
—
1968–69
Toronto Maple Leafs
NHL
71
11
23
34
20
4
0
0
0
2
1969–70
Toronto Maple Leafs
NHL
74
18
19
37
31
—
—
—
—
—
1970–71
Los Angeles Kings
NHL
59
17
26
43
53
—
—
—
—
—
1971–72
Los Angeles Kings
NHL
73
13
24
37
48
—
—
—
—
—
NHL totals
1079
281
362
643
792
89
25
26
51
126
Gallery
External Links