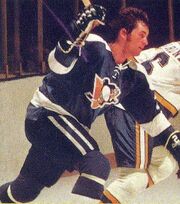 Robert Harvey Paradise (born April 22, 1944 in St. Paul, Minnesota) is a retired American ice hockey defenseman who appeared in a total of 368 National Hockey League regular season games in 1971–79. He is a member of the United States Hockey Hall of Fame.
Paradise grew up in Minnesota where he earned all-state honours in football and hockey. He also turned down a professional baseball contract from the Boston Red Sox in 1965, choosing instead complete his education at St. Mary's College. While at the school, Paradise continued to develop his hockey skills, becoming an all-conference performer in the Minnesota Intercollegiate Athletic Conference for four consecutive years.
Originally signed as a free agent by the Montreal Canadiens after playing for the United States national team at the 1968 Winter Olympics and 1969 World Championship tournaments, Paradise was traded to the Minnesota North Stars in 1971 where he made his NHL debut. He has also played for the Atlanta Flames, Washington Capitals, and the Pittsburgh Penguins before retiring in 1979. He was also a member of the US national team at the 1977 World Championship tournament.
External links