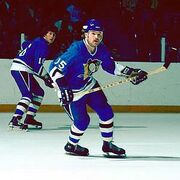 Robert Spang "Bob" McManama (b. October 7, 1951, Belmont, Massachusetts) is a retired professional ice hockey centre.
He played 99 games in the National Hockey League for the Pittsburgh Penguins and 37 games in the World Hockey Association for the New England Whalers in 1975–76. He was also a member of the United States national team at the 1973 World Championship.
McManama played for the Harvard Crimson from 1969 to 1973. Undrafted by the NHL, he had to choose between the Pittsburgh Penguins and the New England Whalers. He chose the Penguins and signed as a free agent.
He became the first Harvard player to make the NHL in almost half a century.
In 1973-74 he only managed 5 goals and 15 assists in 47 games for Pittsburgh while playing some for the Hershey Bears. The following season he did even worse, scoring only 5 goals and 9 assists in 40 games.
A switch to the New England Whalers in 1975-76 did not help much. McManama only scored 3 goals and 10 assists in 37 WHA games.
He retired from hockey in 1976 at the age of 24.
Community content is available under
CC-BY-SA
unless otherwise noted.