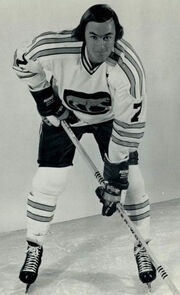 Robert Allen Liddington (born September 15, 1948 in Calgary, Alberta) is a retired professional ice hockey left wing who played 11 games in the National Hockey League and 348 games in the World Hockey Association. He played for the Toronto Maple Leafs, Chicago Cougars, Houston Aeros, Denver Spurs, Ottawa Civics, and Phoenix Roadrunners.
He played junior hockey for the Calgary Buffalos and Calgary Centennials. Undrafted by any NHL club, he was signed as a free agent by the Toronto Maple Leafs in 1969. Liddington spent three seasons in the Leafs' system, but only played 11 games with the NHL team in 1970-71, scoring one assist.
In 1972 Liddington jumped to the Chicago Cougars of the World Hockey Association (WHA). He played three seasons for them, scoring 20 or more goals in each one. In 1976-77 he scored 20 goals for the WHA's Phoenix Roadrunners.
He retired in 1979.
Awards
[
]
Gallery
[
]
References
[
]