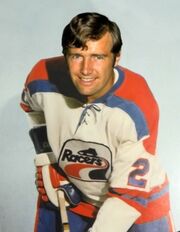 Bob Jones (born November 27, 1945 in Espanola, Ontario) is a professional ice hockey player who played two games in the National Hockey League and 161 games in the World Hockey Association. He played with the New York Rangers, Los Angeles Sharks, New York Golden Blades, New Jersey Knights, New York Raiders, Michigan Stags, Baltimore Blades, and Indianapolis Racers.
Jones played junior hockey for the Kitchener Rangers from 1963 to 1966. His NHL rights were owned by the New York Rangers and he spent five seasons in their system and played in only two games for the Rangers. That was in 1968-69 and he did not score any points.
He was traded to the Salt Lake Golden Eagles in 1971 and then to the Portland Buckaroos in mid-season.
The World Hockey Association (WHA) gave him a new chance in 1972. Jones jumped to the New York Raiders and then stayed with the renamed New York Golden Blades in 1973-74. He found himself back in the minors in 1974-75 and 1975-76 when he scored more than 100 points in the North American Hockey League in each of those seasons.
He retired in 1977, having played in 161 WHA games and scoring 30 goals and 48 assists.
External Links
[
]