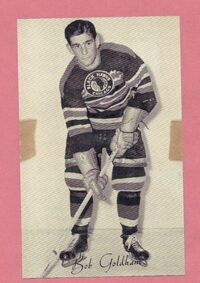 Robert "Bob" Goldham (May 12, 1922 in Georgetown, Ontario – September 6, 1991) is a retired Canadian defenceman. He was called the "Second Goalie" because he would throw himself in front of the puck.
Goldham started his National Hockey League career with the Toronto Maple Leafs in 1941 and won the Stanley Cup. After that Goldham was in the Canadian military for three seasons.
He returned to the Leafs in 1945-46 but was part of the package traded in 1947 to the Chicago Black Hawks for Max Bentley. After two and a half steady seasons in Chicago he was traded in 1950 to the Detroit Red Wings.
Goldham played 6 seasons for the Wings and won Stanley Cups in 1952, 1954, and 1955. He also was a second all-star in 1954-55. He retired after the 1956 season.
After retiring, he worked for several years as a television analyst on CBC's Hockey Night in Canada and on the local midweek Toronto Maple Leaf broadcasts on CHCH channel 11.
External links