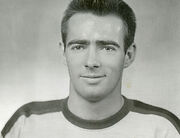 Percy James Robert Frampton (born January 20, 1929 in Toronto, Ontario) is a retired Canadian professional ice hockey forward who played 2 games in the National Hockey League for the Montreal Canadiens.
He was a star with the Montreal Junior Royals from 1946 to 1949, helping them win a Memorial Cup in 1949. He was a first team All-Star in 1946-47.
Frampton turned pro with the Cincinnati Mohawks in 1949-50 and also played in three games for the Montreal Canadiens.
He played two seasons for the Victoria Cougars and then three seasons for the Montreal Royals. Frampton retired in 1955.
External links
[
]