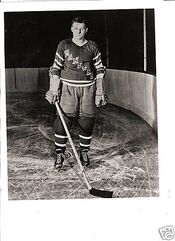 Robert Edward Dill (b. April 25, 1920 in St. Paul, Minnesota - d. April 16, 1991) was an American professional ice hockey player. Dill played professionally in the Tropical Hockey League, in the American Hockey League with the Springfield Indians, in the United States Hockey League for the St. Paul Saints and in the National Hockey League for the New York Rangers. He was inducted into the United States Hockey Hall of Fame in 1979.
Throughout his hockey career, Dill was considered an intense, but clean, player with an aggressive style of play. While with the New York Rangers, Dill's battles with Montreal Canadiens great Maurice "Rocket" Richard became the stuff of legend.
Dill was sought by the New York/San Francisco Giants Major League Baseball organization to play baseball in the major leagues. Had Dill played for the Giants baseball team, he would have been the first (and only) American to play both NHL hockey and Major League Baseball, and probably the first "two sport" player in American professional sports history. The proposed contract was nixed, however, by the New York Ranger hockey organization because the schedules of the two sports overlapped. In that era, the NHL contracts (and professional sports contracts in general) were more restrictive, and with players having far less latitude for making career decisions than they do today.
After the New York Rangers traded Dill to their farm team, the St. Paul Saints, he went on to five more years of successful play. Dill was a 1st team all star in 1947 and 1950 and led the Saints to a USHL Championship in 1948. Fans filled the stands to watch a great rivalry between the St. Paul Saints and the Minneapolis Miller hockey team, one of whose star players was another Minnesota hockey Legend, John Mariucci.
After serving as a player-coach for his old friend Shore in Springfield during the 1951-52 season Dill retired. Following his playing days Dill worked as an NHL scout for the New York Rangers,Chicago BlackHawks and Minnesota North Stars.
External links