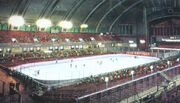 Boardwalk Hall, formally known as the Historic Atlantic City Convention Hall, is an arena in Atlantic City, New Jersey, United States.
It seated 10,500 for hockey and was the home of the Atlantic City Boardwalk Bullies from 2001 to 2005. The ice surface is called the Art Dorrington Ice Rink, named in honor of Art Dorrington in 2011, who played for the Atlantic City Sea Gulls in the 1950's and was the first African-American to sign an NHL contract (with the New York Rangers). He never got to play with the Rangers as his career was curtailed by a leg injury
December 28, 1929 the arena hosted an NHL reagular season game between the New York Rangers and the Ottawa Senators
The arena hosted the 2012 AHL All-Star Game despite not hosting a regular team.
The Albany Devils of the AHL are scheduled to play 4 regular season games at the building during the 2012-13 season.
The arena has hosted the ECAC Men's Hockey Championship in 2011 and 2012 and is scheduled to host the 2013 event.
Sources:
http://973espn.com/hockey-returns-to-boardwalk-hall-in-atlantic-city/
http://www.atlanticcityweekly.com/events/Albany-Devils-Ice-Hockey-games-2-3-172478871.html
Community content is available under
CC-BY-SA
unless otherwise noted.