The Binghamton Devils are a professional ice hockey team in the American Hockey League (AHL) that began play for the 2017-18 season as the top minor league affiliate of the National Hockey League (NHL)'s New Jersey Devils. Based in Binghamton, New York, the Devils play their home games at Floyd L. Maines Veterans Memorial Arena.
Previously, the franchise is playing based out of Albany, New York, as the Albany Devils.
History
On September 26, 2016, shortly after it was announced that the Binghamton Senators were being purchased by their parent club and would relocate to Belleville, Ontario, for the 2017–18 season as the Belleville Senators,[1] the B-Sens' management reaffirmed that they were working hard to keep AHL hockey in Binghamton for 2017–18 and beyond.[2]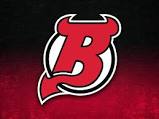 On January 26, 2017, the Times Union reported that the Albany Devils would be the team to call Broome County home for 2017–18, citing the Devils' average per-game attendance of 2,888 being last in the 30-team AHL.[3] The official announcement of the team's relocation (and the Binghamton Devils name) was announced on January 31, and that the organization had signed a five-year operating agreement.[4][5][6]
Departure from Binghamton
For the 2020-21 playing season the team was moved temporarily to Newark, New Jersey due to restrictions caused by the COVID-19 pandemic. In April of 2021, reports surfaced that the Utica Comets had put in a filing with the US Trademark and Patent Office on April 5th to register Utica Devils as a tradmark. Utica, New York previously served as the New Jersey Devils AHL affiliate from 1987 to 1993. The Comets were an affiliate of the Vancouver Canucks. The six-year affiliation deal that started with the 2019-20 season has an opt out clause after the 2020-21 season. The Canucks would likely want to have their AHL affiliate close to Vancouver for player call ups. Abbotsford, British Columbia was mentioned as a possible destination for the Canucks AHL team. [7]
Season-by-season record
Regular season
Playoffs
Season
Games
Won
Lost
OTL
SOL
Tied
Points
PCT
Goals
for
Goals
against
Standing
Year
1st
round
2nd
round
3rd
round
Finals
2017–18
76
25
38
9
4
—
63
.414
193
247
5th, North
2018
Did not qualify
2018–19
76
28
41
7
0
—
63
.414
201
278
8th, North
2019
Did not qualify
2019–20
62
34
24
4
0
—
72
.581
189
182
4th, North
2020
Season cancelled due to the COVID-19 pandemic
2020–21
35
7
20
5
2
1[lower-alpha 1]
22
.314
89
127
7th, North
2021
No playoffs were held
References
External links
New Jersey Devils

Team

Kansas City Scouts • Colorado Rockies • Players • Award Winners • Seasons • Records • Draft picks • • Continental Airlines Arena • Prudential Center

New Jersey Devils coaches

MacMillan • McVie • Carpenter • Schoenfeld • Cunniff • Brooks • Lemaire • Ftorek • Robinson • Constantine • Burns • Lamoriello • Julien • Sutter

Division titles

1996-97, 1997-98, 1998-99, 2000-01, 2002-03, 2005-06, 2006-07

Conference Championships

1994-95, 1999-00, 2000-01, 2002-03

Stanley Cups

1994-95, 1999-00, 2002-03

Affiliates

Lowell Devils (AHL), Trenton Devils (ECHL)


Cite error: <ref> tags exist for a group named "lower-alpha", but no corresponding <references group="lower-alpha"/> tag was found