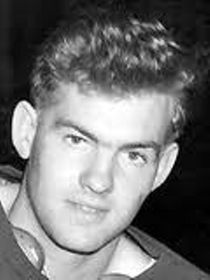 Winston Bryan "Bing" Juckes
Hometown: Hamiota, Manitoba
Died: December 31, 1990 in Tupelo, Mississippi
Position: Left Wing

when shooting pucks at the net he hit the crossbar regularly and it made a bing like sound. ... soon everybody was calling him Bing, a nickname which stayed with him for the rest of his life. ... at 16, moved away from home to play for St. James in the Manitoba Junior Hockey League in 1942. ... in 1943, St. Catharines coach Rudy Pilous signed him to play for the Falcons in the OHA Junior A league. ... signed with Providence of the AHL in 1944, but sent back to junior for more experience. ... returned to Manitoba, playing with both the MJHL Rangers and the Winnipeg Navy team in the city senior league. ... started the 1945-46 with Providence, but once again was returned to junior. ... joined Brandon, where he would finish second in league scoring to line-mate Don Raleigh. ... scored 31 goals with the Lethbridge Maple Leafs in 1946-47. ... this got the attention of the New York Rangers of the National Hockey League, who signed him. ... made his NHL debut December 25, 1947 vs. Detroit Red Wings. ... played mainly for New Haven of the AHL. ... assigned to St. Paul in the USHL for the 1948-49 season. ... was 1st All-Star and St. Paul won the league championship. ... played 14 games for the NHL Rangers in 1949-50, spending rest of year at New Haven. ... sold to Denver of the USHL in 1950. ... started coaching in 1952 with Yorkton of the Saskatchewan Senior League. ... in 1954, returned home to Manitoba, and guiding Brandon to the Western Canada Intermediate Championship. ... with Las Vegas hotelier Ralph Engelstad set up the Southwest Hockey League in 1975. ... was the commissioner until the league folded after two years. ...
Traded to Denver (USHL) by NY Rangers for cash, October 16, 1950.
Winnipeg Inter-Services Senior Hockey League Championship (1945)
United States Hockey League First All-Star Team (1949)
United States Hockey League Championship (1949)
McKenzie Trophy Big Six Intermediate Hockey League Championship (1955)
McDiarmid Shield Manitoba Intermediate A Hockey Championship (1955)
Edmonton Journal Trophy Western Canada Intermediate A Hockey Championship (1955)
Community content is available under
CC-BY-SA
unless otherwise noted.