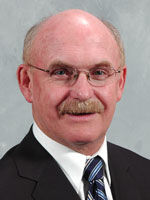 Billy Moores is currently the Director of Player Development for the Edmonton Oilers. After a short playing career, Moores has had a long and distinguished career as a coach.
He played junior hockey for the Edmonton Oil Kings until 1970, when he joined the Alberta Golden Bears. Moores also played briefly for the Long Island Ducks, retiring in 1973.
Moores joined the Golden Bears coaching staff as an assistant in 1976 and stayed there for 17 years. He served several times as head coach when Clare Drake took a leave of absence before becoming the permanent head coach in 1990. In his seven years as head coach he compiled a record of 220-83-23 and won two University Cups in 1980 and 1992. He was the Canada West Universities Athletic Association coach of the year in 1989, 1990, 1991, and 1993, and the Canadian Interuniversity Sport's coach of the year in 1980 and 1991.
He took a leave of absence in 1985-86 as the coach and general manager of the Regina Pats.
Moores left the University of Alberta in 1994 to coach the Kokudo Bunnies in Japan for two seasons. The team won the league championship in 1994-95. Moores later was an assistant coach of the Japanese team in the 2000 World Championship.
In 1996, Moores joined the New York Rangers as an assistant coach. After two seasons he left for the Edmonton Oilers to assume the same position, one he held until 2009.
He then became a scout for a season and also was an assistant coach of the Canadian team at the 2010 World Championships.
After the World Championships Moores was named to his present position as Director of Player Development.