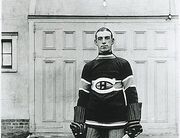 William Martin Boucher (November 10, 1899 – November 10, 1958) was a Canadian professional ice hockey right winger.
Born in Ottawa, Ontario, Canada, he played in the National Hockey League for the Montreal Canadiens, Boston Bruins and New York Americans. He also played for the New Haven Eagles and Bronx Tigers of the Canadian-American Hockey League. His name was engraved on the Stanley Cup with Canadiens in 1924.
Boucher started out with four seasons with the Ottawa Munitions of the Ottawa City Senior League (1916-20) and the following season with Iroquois Falls of the Northern Ontario Hockey Association.
He started with the Montreal Canadiens in 1921-22 and lasted to the middle of the 1926-27 season. He was then traded to the Boston Bruins, Boucher's career was then on a downhill and he retired in 1933 after spending a season with the senior Quebec Granites.
He died of a heart attack on November 10, 1958 on his 59th birthday.
External Links
[
]